"Lisa's Dream" was originally a four minute slideshow of images from Lisa's trip across the globe before she tragically lost her life – Until this moment she was living her dream with all the vibrant energy and love of life she was so well known for.
In 2019, as part of Lisa's 40th birthday celebrations, Clive and Trish arranged for the original slide show to be updated and re-imagined by her brother Ross in an effort to keep her dream alive and help us to remember not just her journey but her adventurous and inspiring spirit.
This four minute musical  pictorial tribute of Lisa's journey through America, Fiji, New Zealand and Australia is also available on DVD for £10 + £2 p&p in the UK. Please make cheques payable to: The Lisa Wilson Scholarship Fund, c/o Mr & Mrs Wilson, Peartree Cottage, Nomansland, Salisbury, Wiltshire, SP5 2BN.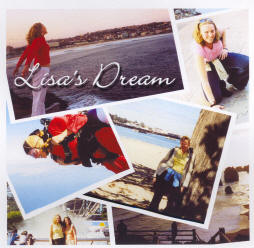 I soon hope to start work on the story of Lisa's Dream, it will tell the story of Lisa's journey to America and onto Fiji, New Zealand and eventually Australia, the people and the places she met and visited. It will be told through Lisa's postcards, pictures and words from her journal. It will give everyone the opportunity to follow her dream. No doubt it will take time to create, and new material and images that we discover along the way will mean it will be continually expanded. So if you have any material, photographs memories or stories that you can share with us we would be grateful if you could forward them to [email protected]
In the interim I have placed here some editorial that has been requested by Southampton Institute who will be running a feature on Lisa in the new year. This is just a brief outline of Lisa's educational background and summary of her trip.
Lisa Wilson. 15/03/79 – 4/11/02
Lisa was born in Northampton daughter of Clive and Tricia Wilson and younger sister to Scott and Ross Wilson. The family moved to Hampshire with her fathers job in 1985. Lisa attended Copythorne and Bartley schools before moving back to the midlands for three years where she went to Walgrave school. The family returned to settle in the south when they started a business 'Southern Exhaust Supplies' in Eastleigh Hampshire in 1991.
At that time Lisa went to Hounsdown school in Totton, she enjoyed sport participation and won the shot put in years 8,9,& 10 and went on to represent her school at the Area and Hampshire Athletics Championships in shot put and discus. She was also swimming captain and loved drama and dance. Whilst in Northamptonshire Lisa represented the county badminton side. She was an active student and enjoyed the French exchange in her words 'one of the best and unique experiences I have ever had'. She also participated in the school ski-ing trips and loved to ski and snowboard in particular with her brother Scott. She enjoyed her time at Brockenhurst College before moving onto Southampton Institute where she spent three happy years. Most of this time was spent working with Sabrena White, Claire Rutland, Hannah Potter, Tina Darshan Vicky Harris and Leila Poole. She had a special affection for tutor Eric Corns and throughout all her education Lisa worked extremely hard for her qualifications which were as follows:
Lisa's Educational Achievements
Higher Education:
2000-2001 SOUTHAMPTON INSTITUTE OF HIGHER EDUCATION
BA (HONS) Business Management; CLASSIFICATION Second Class Honours (First Division)
1998-2000 SOUTHAMPTON INSTITUTE OF HIGHER EDUCATION
HND Business & Marketing; Awarded with Commendation
Further Education:
1995-1998 BROCKENHURST COLLEGE
A Level English Language Grade N
AS Level Psychology Grade C
GCSE Mathematics Grade C
GCSE English Grade C
GCSE French Grade C
GCSE Spanish Grade E
RSA Word Processing 2 Passes/ 3 Distinctions;
C.L.A.I.T. Passed Stage 1
Secondary Education:
1991-1995 HOUNSDOWN SECONDARY SCHOOL
10 General Certificates of Secondary Education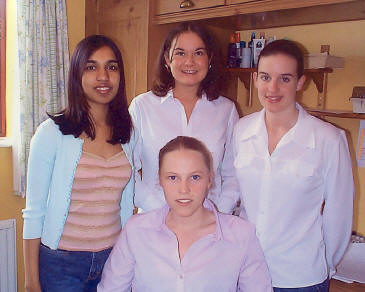 Throughout this time Lisa had worked whenever she could at Wellow Golf Club where she was also an active member and was proud to win the Gilbert Trophy in 1997 . Lisa took a job with the Nationwide Building Society in Shirley to enable her to save money to take her dream holiday and travel the world.
Lisa was originally to travel with BUNAC (an organisation that helps young travellers) but her close friend Jo Harwood who worked at the golf club decided she wanted to travel with her. They hatched their plan to depart for San Francisco on February 15th 2002, originally Lisa was to travel for a year and Jo was to come home after six months.
They travelled to America moving on from San Francisco to Monterey and Los Angeles where they had a great time at Universal Studios and visiting the attractions in Hollywood. From here they flew to Fi-ji which they originally found conditions to be like the TV programme Survivor, they island hopped and grew to love the island and it's people. From here they travelled to New Zealand where Lisa bungee Jumped and did a free fall parachute jump over Lake Tapoe. She really loved the excitement and adrenalin rush and these events are both captured on video.
Next they moved to Sydney and moved in with Lisa's cousin Gary and his wife Fiona, Gary found them both a job at the University of New South Wales as a financial clerk. Duties included data entry, liaison with faculty departments and registration of equipment. This gave Lisa the opportunity to re-stock her bank account and make plans to continue travelling in Australia, the job also gave her the opportunity to visit Canberra. Both Lisa and Jo loved the nightlife in Sydney and had an absolute ball meeting lots of other young backpackers all enjoying themselves.
During May Lisa worked with her cousin's wife Fiona who was organising the RSPCA 'Million Paws Walk' in a very hands on role helping to make the event a great success.
In June Lisa returned home for two weeks to be Bridesmaid at her brother Scott's wedding to Kelly Emery. The wedding was At Kilconquahar Castle in Scotland and her Brother Ross was best man. This was without doubt the proudest day of Tricia and Clive's life, ironically it was the last time the family was to be together. Throughout the week of the wedding she was her normal dynamic self, loud, loving, full of life and laughter and so very beautiful.
She flew back to Sydney and returned to the University to work for a further three weeks before her and Jo somewhat reluctantly travelled to Melbourne to continue their travels. Here they got a job with S.M.A.R.T. direct selling the Herald Sun newspaper door to door. Lisa loved the challenge and would frequently use an Australian or Irish accent to help with her sales pitch. Jo who had met Dave in Sydney never really settled in Melbourne and decided to return to work in an ice-cream parlour at Coogee back in Sydney. Lisa took a shine to her new boss Nathan (nook) with whom she later had plans to travel to Thailand. She moved into a backpackers house and made a whole new group of friends. Earning good money with the paper gave her the opportunity to take a week of here and there to travel. She visited the set from Neighbours and met the cast at one of their singalong evenings. She did the 'Ocean Road' trip and met up again with Jo in Adelaide to visit the winery's and visit her favourite place 'Kangaroo Island' in her words taken from her journal this was a 'hop skip and jump to paradise'.
She returned to Sydney to see Kylie Monogue in concert just like she had with her mum when she was 13 at the NEC in Birmingham. She tried to phone her mum during the concert to remind her of that night together in Birmingham but couldn't get through on the phone. She continued to keep in touch with Jo but loved the appeal of Melbourne. She loved the Aussie rules football and went with Nook to see Collingwood play the Crows in the MCG and had her 'best day'. She loved the Aussie pies and the lager and found a lovely little Chinese where her and Nook would talk about their families and plans.
Her mum and dad were going to miss her so much at Christmas they had arranged to visit Lisa in November after she was to see Jamiroquai in Sydney, they were to meet her in Brisbane at her uncle Andy's and take her to the Whitsunday Islands for a short holiday before going to visit the sights in Melbourne and meet Nook. Lisa had already planned the itinerary in her diary. Tragically it was never to be, Lisa and her friends decided to travel to Ayres rock some three days away by car. Nook didn't want her to go but knew she was living her dream, he had planned to take her to the Melbourne Cup on the 5th November. Lisa had done the 'Ocean Road' trip before which was en route to Ayres Rock and wanted to show her friends the way. On the second day of the journey with Lisa in the passenger seat the car unexplainably veered off the road and when the driver tried to correct it the car rolled over killing Lisa instantly. The accident happened in daylight north of Port Augusta on the Stuart Highway in South Australia.
Immediately her mum and dad flew out with their sons Scott and Ross plus Kelly and Donna to bring Lisa home, they just wanted to take her from the country that had taken their daughters life. They met with the other girls in the car Adele and Michelle and other friends plus Jo and Nook and her cousin and Uncles and decided to have a service in Adelaide. They found comfort in the photographs they were given and in particular in the journal and diary that Lisa had written. It told of what a wonderful time she was having and helped identify her friends. With time on their hands because of flights and legalities they visited Melbourne and put the faces to the names and visited the happy house where she lived laughed and loved. Her brothers went to Sydney to take pictures of the places she visited and worked and to help complete the picture. While Tricia and Clive felt robbed of the last six months there was no way they could have taken away 'Lisa's Dream'. It didn't help the loss but they knew for sure just how happy she had been.
As a tribute to Lisa they have established the 'Lisa Wilson Scholarship Fund' to help young students who can't afford to live out their College dream like Lisa. There will also be an annual award in Lisa's name for a graduate in Business Management who has shone through against the odds. Wellow Golf Club will be holding a golf day and a new trophy bearing her name will be on it. There will also be a fund raising disco for the 'Dancing Queen'. A website has been set up in Lisa's name to remember her and for her friends to stay in contact with each other. The website name has been taken from her own e-mail address www.lisathedaddy.com The family want people who knew Lisa to contribute to this. Details of the Scholarship fund can also be found on the site.
As a fitting tribute Jamiroquai dedicated a song to Lisa four days after she died outside the Sydney opera House in view of the Sydney Bridge from where Lisa had sent home a photograph to her Mum with a placard saying 'Happy Birthday Mum', as Lisa knew she wouldn't be there on her mum's special day.
They then let off one million of fireworks Lisa would have loved that. Eastleigh Football Club had a minutes silence and 'The Saints' (Southampton F.C.) played a record in her memory, she was a season ticket holder there and loved her footie, she even trained with Saints ladies. The funeral at Romsey Abbey was attended by over three hundred people. This lovely girl who was instant 'best friends' with everyone she met made a huge impression on so many people in such a short time. Lisa was 'The Daddy' in all she tried to do and achieve and we were all so proud to have known and loved her, even if not for long enough.