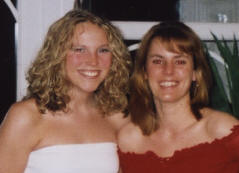 To my best friend Lisa,
I wish so much with all my heart that I could talk to you one last time and thank you for everything that you did
for me. To tell you how I love you and how special you are like you were always telling me. I miss you so much.
Today is New Years Eve and all I can think about is you and what a wonderful night we had last year. I had just been through quite a tough 6 months or so previously and was a bit apprehensive about how I would be on New Years eve after a few drinks inside of me. But with you there, my dancing Buddy, I had a wonderful time. You were the one person who saw me through those 6 months, you were always there for me and supporting me.
This time last year we had so much to look forward to. We were so excited about going off on our adventure. I never would have gone if it wasn't for you, I never would have met Dave, one more thing which I have to thank you for. You were so amazing my Darling friend and so beautiful, I just wish so much that I could tell you so. But I have a feeling that you are looking down on all of us and I will do my best to live my life to the fullest like you did and to be a good person.
When the clock strikes twelve tonight I will think of you with so many sweet memories.
Thanks babe.
Love Jo Jo. xx