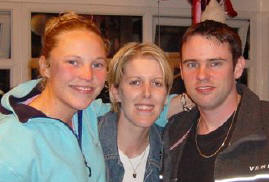 To my little sister
I couldn't wait for you to come home, every time I would buy something new I'd think I can't wait to show Lisa when she gets back she'll be so jealous.
You were the one to convince me to grow my hair for the wedding. And now it's twice as long as you saw it last. Every person I met in Australia had, had a running commentary on my hair. I just wish I could show you now, you'd be so proud. When Scott and I first got together you were the first one to say how happy you were, even if you spilled the beans to your mum and dad.
I will never forget the day we told you we were engaged, the instant I show you the ring it was as if I had stabbed you with my hand. The tears came flooding and you said you had always wanted a sister. Not only was it the best day of my life because I was getting engaged to the man I love, it was the happiest. I was over the moon to gain a sister and to know you felt the same way, you really made me feel part of a great family.
I was so proud to have you as my bridesmaid I really don't know how I would have got through it with out you, you really were my strength. My nerves were a mess and you told me to pull myself together, the day would go fine as I was marrying a great bloke (your brother). A glass of bubbly my hands and all my worries were forgotten, how could I be nervous with my new sister to take care of me.
You will always be in my dreams
I know I can no longer see you but I know you will be in safe hands.
Mum keep an eye on my little bridesmaid for me.