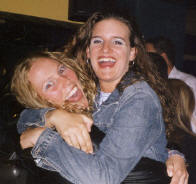 Lisa
It's been months now since you left us, someone who filled so many of my days with fun, laughter and happiness, someone who was such a special best friend.
I've so many stories to tell and remember more each passing day, I remember the beginning when I met you back in 1995, during our college years.
You were so different then in lots of ways a toy boy wild child who rode a motorbike! We were in the same class re-taking GCSE maths – god knows how many times to try to achieve a grade C!. I finally gave up and you done it one more time and got it, I was so jealous!
In 1998 we finished college and went to the institute together. Although we partied hard and got drunk we knew what we both wanted and knuckled down and worked hard too.
We both came out of long term relationships and helped each other through. That's when you changed. After the first year you lost so much weight and worked out non stop (although you always loved doing the truffle shuffle with that belly!) I was so proud of you I saw you grow into the beautiful woman you were and then you dragged me round all the shops every lunch time trying on all the latest fashions even when we were skint!. You would pick out the most horrible outfits like pink hot pants and prance round the changing rooms. I swear most of my debts were down to shopping every lunch hour not text books! but I wouldn't have changed a thing about any day I was fortunate enough to have spent with you.
Your confidence grew and you were dragging me in every club on every platform saying "look at me wee I can pull dance moves out my arse!" As your mum said "A dancing queen".
I loved all those girlie nights getting ready, doing each others hair and you always would do my eye shadow!
After our great success on the HND we got on our 2+1 course to do our BA (hons) Business in one year! Such an achievement and something I would never have been able to do without you. You were always there when I was down or struggling, spurring me on and pushing me. I have so much to thank you for. Remember the trips to Thornton's? I swear I have never seen anyone be able to eat as much chocolate as you in one go! And be proud of it!
That last year was hard work but fun. We had Eric for our consultancy project and worked so hard on it. You were the wiz with the presentation and making it all look fancy! We were so happy to get a first.
Then there was finance, boy did we struggle! I remember we started arguing over something silly and when we looked round the whole class had gone quiet and was listening! Then we both laughed our heads off!
I remember the day we went to get our results we both wanted to do well and hoped for a 2:2, although I think we both secretly wanted to get a 2:1!. Everyone called us two peas in a pod! We were not competitive, we wanted the same and I'll never forget you stood there crying your eyes out! Everyone else was crying as they had got a third and you cried with happiness! We went out that night in town. Well we went to the union in the afternoon got so drunk we fell asleep then woke up and carried on! You wore your cow girl hat out! Centre of attention again!
Then we rewarded ourselves with Ibiza! Boy do I have some storeys on that! (Although some I could not put down in words!). Yes you know the ones!
We went out all night and danced then sunbathed and slept on the beach all day! I brought some factor 2 oil and fell asleep on the beach and woke up, you had used the whole god dam bottle! You were burnt to a crisp that night and we couldn't go on a booze cruise we had tickets for. You lay on the bed and caked on the after sun (I still have the picture of you naked!) I am so glad we had that holiday, we were on such a high and had some brilliant nights, I just wish there was more to come.
The graduation or graduations I should say! Will be one of the best days of our lives. We had our hats and gowns and families with us (I won't mention the briefcase!). The graduation ball was brilliant we had our gowns and you had your hair done, you looked so beautiful. At our first one in Bournemouth we stayed in a hotel. You had a breakfast in the hotel and I overslept and went for breakfast a bit later and you had another one!. You did love your grub!.
Then life changed reality we had to get jobs!. My permanent and yours temporary. After our finance nightmares we both surprisingly got jobs in finance. Our interview days, first days at work all things we shared together. I feel so sad now that all my next special occasions to come you cannot be here, although I feel you will be. My bridesmaid, god mother to my kids and all the times I will miss out on your special occasions. I wish you could see my home now, I have painted my spare room sunshine yellow for you.
Some nights when I play your records and have a good cry I know you're with me. That special letter I found just after the accident that changed everyone's life's who knew you was fate and I think that was your goodbye. I will cherish those words forever.
That's you all over special, thoughtful, caring. I remember the day you gave it to me. Just after our exams. I am so pleased you lived your dream. I knew you would do it.
It feels sad to try to write all this in a couple of pages, I've so many other storeys Brighton, nights out etc.
I remember so clearly the last day I spent with you shopping again but this time for your back packing adventure we had the radio on full blast, singing all the way home. You dropped me off and gave me the biggest hug.
When you came home for the wedding we spent some time together, our last night out in IKON, we were doing straight Vodka shots. Then the good bye Barbeque. The last time I saw you, I don't remember you smiling out the bedroom window, waving goodbye, you had your arse out it! Rum and I were cracked up! (Appropriate wording there!) He shouted 'I bet that takes some wiping!'
I know you are looking down on me and I hope you will be proud of me and the way I live my life as much as I am of you.
I will miss you everyday, until we meet again babe.
You're Weena
xxx