On Sunday 18th of April, Clive Wilson ran the London Marathon and raised over £6000 for the charity.
A message from Clive:
I would just like to thank everyone for their fantastic support for me running the London Marathon on behalf of Lisa's Charity.
Your generosity will help five less fortunate students get their opportunity to follow their University ambitions and at the same time ensure Lisa's name will live on. Without doubt this was the most difficult personal challenge I have ever set myself and probably the most rewarding moment of my life to complete it.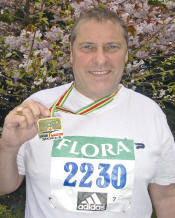 To read Clive's full account of the day and to see more photos of the man in action, please click here.