Following a record number of scholarship applications this year eight bursaries have been granted. On Wednesday 18th October nearly fifty people were at Southampton Solent University to see a record number of recipients being awarded the Lisa Wilson Scholarship Award. Along with the students there were many parents and staff from the university and visitors from other feeder colleges. This years bursaries were awarded to; Liberty Allen, Cherie Cross, Tom Dowsett, Ali Lanani, Vanessa Dionne-Marie Langlais, Naomi Jane Linton, Denise Mutoni and Kirsty Anne Smithers.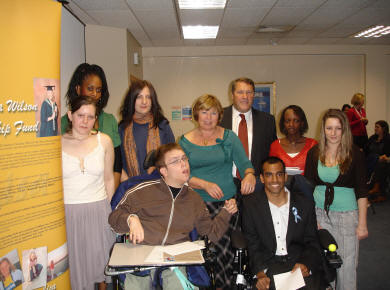 The Lisa Wilson Scholarship Award recipients for 2006

Geeta Uppal introduced Clive Wilson who spoke about Lisa and showed a dvd produced by Lisa's brother Ross called 'Lisa's Dream' which was a pictorial tribute of Lisa's photo journal on her trip around the world that so sadly ended in tragedy. Then an animated dvd also produced by Ross showed how the amazing total of £100,000
had been raised to date. This amazing figure means Lisa's Legacy will be at least 100 years of education. Charlotte Field was also in attendance with her son, Charlotte was one of the first students to receive a bursary and this year graduated with first class honours. In an emotional speech Charlotte said how the scholarship fund had made such a big difference to her life and how she would be forever grateful. Doctor Keith Johnson spoke of how the scholarship has become such an important part of the university and expressed his thanks to Tricia and Clive. Tricia Wilson presented the bursaries to the students and a special prize was presented to Charlotte for being the first student to graduate through the scheme.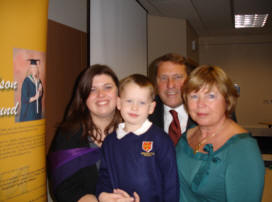 Charlotte Field with her son Max and Tricia and Clive Wilson.