After running a very successful trust fund for eleven years, the trustees of the Thomas Toft Memorial Trust Fund have decided to pass on the balance of funds to the Lisa Wilson Scholarship Fund. Thomas Toft was a second year student at Southampton Institute when he tragically contracted malaria whilst visiting his Danish parents in Ghana. Following Thomas's death his parents set up the memorial fund to aid students who had overcome some adversity or demonstrated a need for additional funding. Over the eleven years the fund has been running some ten students have received bursaries to help with their studies.
The trustees felt that as the funds were winding down now was an appropriate time to pass on the funding to Lisa's charity.
The Lisa Wilson Scholarship Fund was set up with similar aims and at a moving ceremony at Southampton Solent University the last two 'Toft' students received their bursaries from trustees Dr Jeff Richards and Dr Howard Rose. They then presented a cheque for the sum of £5666.35 to Clive and Tricia Wilson.
This now brings the total raised for the charity to in excess of £110,000.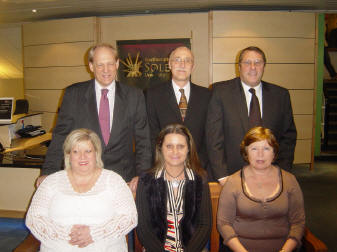 Trustees Dr Howard Rose and Dr Jeff Richards with Clive and Tricia Wilson and the final two Toft students