On Saturday 2nd August 2008 the 6th Lisa Wilson Golf Day took place at Wellow Golf Club where Lisa worked and played before her tragic accident. Over 120 members played in the member's competition which was open to men, ladies and juniors. We also had a record number of guest entries; an amazing 48 people turned out to play in the Guests' and Sponsors' competition.
Although the weather was miserable to start with, it brightened up towards lunch time and during the afternoon became quite hot with some very sunny patches. The course was in exceptional condition and looking at the points score, the golf was exceedingly good.
The prizes were presented by former Grand National winner and race horse trainer, Brendan Powell. Brendan spoke about the race horse named after Lisa, Lisathedaddy, and told a few anecdotes about his career.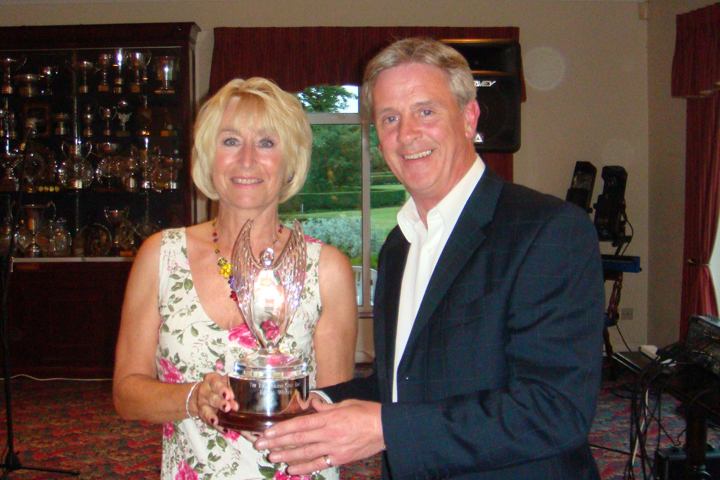 Ladies winner Margi Burt receives her trophy from Brendan Powell
(For a full list of winners, please click here)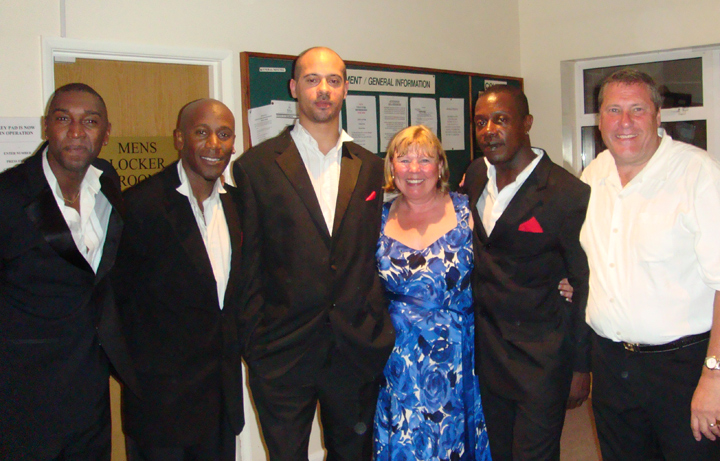 Clive and Tricia Wilson pose with the Drifters.
Nearly 100 guests and sponsors sat down to dinner whilst the members enjoyed a barbecue. Close on 200 people were in the club-house for the prize giving, which was followed by a star cabaret from the legendary Drifters. They gave a truly outstanding performance, singing over 25 songs including many of the Drifters hits, and many other motown classics. The dance floor was absolutely heaving.
Many thanks to everyone who supported the event, it truly was a fabulous day.
Photographs from the evening will soon be available for download and printing. Please check back later.