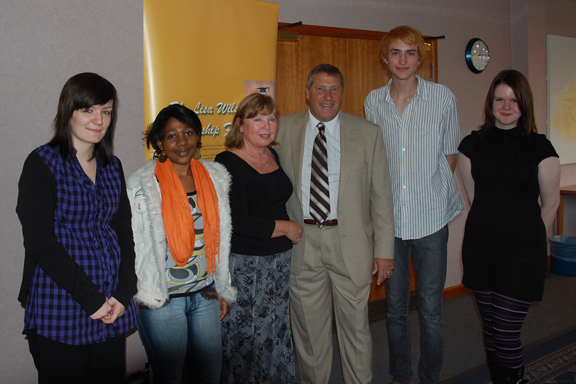 On October 29th October, 5 new recipients were awarded bursaries from The Lisa Wilson Scholarship Fund.
The five recipients were; Michael George Brough, Charlotte Clark, Lilian Namaata, Hayley Sanders, and Charlotte Weddle-Hoyle.  Their awards were presented at a ceremony at Southampton Solent University which was presided over by Professor Jane Longmore.
Bursaries are given to students who can demonstrate how they have overcome adversity and why they need additional funding to help them with their educational dreams and ambitions in the way Lisa did.
At the awards ceremony, a beautiful film was shown of Lisa living her dream in New Zealand, taking on a free-fall parachute jump and the highest bungee jump in the world. Her trip to New Zealand and Australia was her reward to herself for all her hard work at the University, where she graduated with a BA.21 in Business Management
Lisa's Father; Clive said "I could talk about Lisa for hours, the way that she could walk into a room and light it up, look at her brothers and turn them into fits of laughter without saying a word, she was a great dancer and loved to party, and the film that she sent home from New Zealand gives us the opportunity to see how she was living her dream".
This year's intake has brought the total number of students awarded bursaries to date has risen to 40. Each student receives a bursary for up to 3 years, and to date, 14 students have graduated from the University.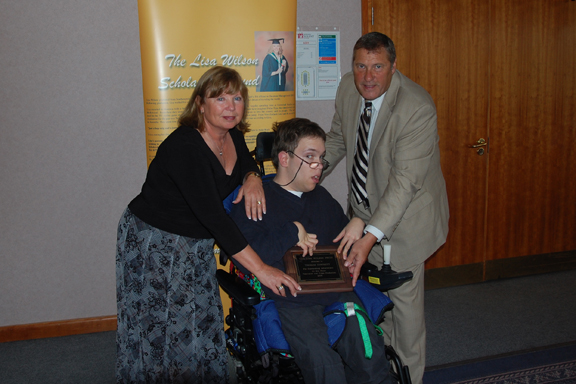 Five students graduated this year, one of whom was Tom Dowsett who graduated with a BA.21 in video film production. He spoke at the ceremony of how the additional funding had helped him with his care and transport costs, and enabled him to buy a camera and other important materials to help him get his degree, despite his disabilities.  Tom stands for everything that The Lisa Wilson Scholarship Fund stands for.