The ninth Lisa Wilson Golf Day took place at Wellow Golf Club in Hampshire on Saturday July 30th.  124 members played in the main competition and some 36 friends and guests participated in the guests' competition. The weather was perfect for golf, very still, no rain, and at about 2.30pm glorious sunshine lit up the entire golf course.
As usual, it was a strongly contested event; Jim Hatball won the men's trophy, Chris Batt won the ladies', with Max Leigh winning the Junior and Students' competition. For the guests, Andy West beat off all challengers to win on his first time playing, and Wendy Stoddard managed to win the ladies' trophy.
In the evening some 200 people filled the clubhouse for the prize giving. Clive Wilson thanked everyone for the amazing turnout and fantastic financial support which saw the charity bring in over £8000 with the raffle and silent auction – a record for the event.
Following the prize-giving, Lucie Campbell–the latest student to receive a bursary from the charity–sang two numbers on her solo debut. The second song 'Somewhere Over the Rainbow' was dedicated to Lisa as one of her favorite songs when she was little. The atmosphere was gripping and extremely moving as Lucie completed her second number. She is a bright talent who touched everyone's heart on the night. It is hoped that Lucie will go on to fulfill her dreams of becoming a West End leading lady.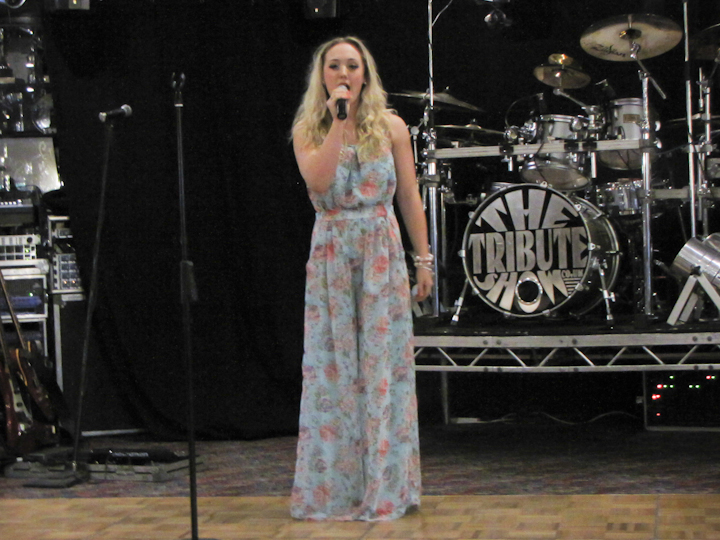 Lucie Campbell performs at the 2011 Lisa Wilson Golf Day
Following the formalities, everyone was entertained by the Tribute Show who did two one hour slots with really brilliant performances as Freddie Mercury, Robbie Williams, Cher, Madonna, and Kylie, to name just a few. They really were the best act to date and the dance floor was buzzing until well past midnight.
This event brought the money raised by the charity to £218,000, a fantastic legacy to Lisa, which amounts to over 200 years of education.