Lisa, like her dad Clive, was a huge soccer fan. Before she was born, England won the World Cup in 1966. Over the years Clive has collected the signatures of all the England players in the World Cup Squad–22 in total–plus Sir Alf Ramsey, and had them beautifully framed. As a way of celebration of the World Cup win the Royal Garden Hotel in London–where England celebrated their victory–are holding a silent auction of memorabilia to raise funds for the Bobby Moore Cancer Reasearch fund. Clive has donated this piece seen below, with the sale proceeds being equally split between The Bobby Moore fund and The Lisa Wilson Scholarship Fund.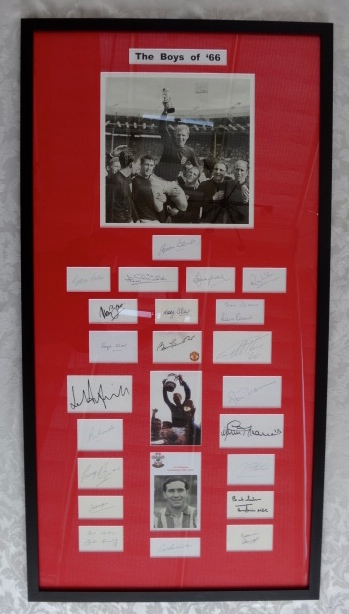 This really is a one off piece of football memorabilia measuring 45″ x 23′.
Bids can be made and other items for sale can be seen at
http://www.bobbymoorelounge.com/lite-ui/#lots/show/22
The Royal Garden Hotel has opened the Bobby Moore bar for the month of July to celebrate the occasion.