The Devere Grand Harbour Hotel Southampton was the setting for Eastleigh Football Club's first Gala Dinner which took place on Saturday 28th February.
Over two hundred guests attended the event, including a host of celebrities including former England cricketer Robin Smith, Hampshire and one day England star Shaun Udell, and Matt Le Tissier. The evening was held to raise funds for the building of the new grandstand at Eastleigh this summer. At the end of the evening a limited edition print, donated by World Cup Winning goalkeeper Gordon Banks, was auctioned on behalf of Lisa's Charity. The print signed by every surviving member of the 1966 World Cup winning team eventually sold to Elliott Trodd of Enfields Property Services for the amazing sum of £4500.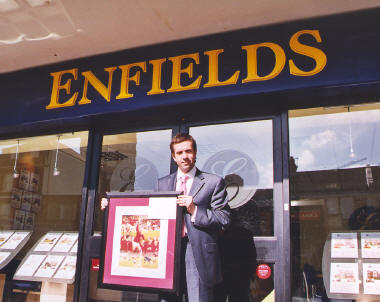 Elliott Trodd of Enfields proudly holds his very special print outside his estate agents' office in London Road, Southampton.