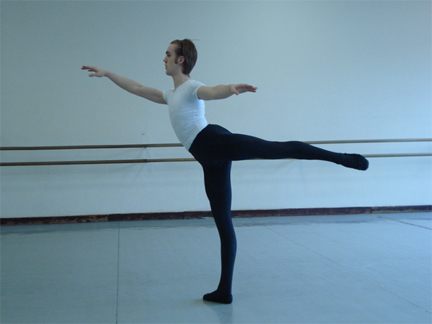 We recently received an update about Henry Perkins, the Hampshire boy who received a bursary last year to study ballet at the Bolshoi Academy in Russia.
Henry has been doing very well, and has just had his next two years at the academy confirmed. He is currently in Boston for five weeks on a summer scholarship from Boston Ballet for their Summer Program for older ballet students.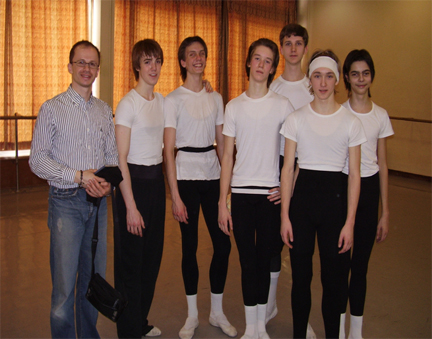 Henry (2nd from left) with his teacher Ilya Kuznetsov, and some of his fellow students at the academy
Henry has now completed two years at The Bolshoi Academy in Moscow. The time has flown by so rapidly and he is now a very confident 17 year old, mature beyond his years because of the life changing opportunity to study ballet in Russia. This is hardly surprising, considering he went to Russia at the age of 15, leaving behind his family and friends and having to learn a new language in order to survive. He has taken on board many Russian cultural traits that make the Russian people such a resilient race; not least, the ability to discount a difficulty as a problem but rather see it as a challenge which can be overcome. This is a quality that helps to create such talented and successful dancers in Russia – they recognise the need for sacrifice and hard work on the route to artistic excellence.

During the last academic year, Henry had the privilege of being offered private tuition outside of normal classes by his ballet teacher Ilya Kuznetsov. He had three private classes a week which has helped him considerably in his quest to fully assimilate the Russian system of training – the Russian boys in Henry's class had already had 5 years in the academy before he arrived. This opportunity to take private classes was made possible by the generosity of one of his sponsors who increased their sponsorship for the year to cover the costs.

In April, Henry flew to New York for the finals of the Youth America Grand Prix ballet competition. He danced the male variation from Coppelia and a contemporary dance called Shadow which was choreographed by his Russian ballet teacher's wife, herself an accomplished contemporary dancer. Henry scored an average of 89/100 from the panel of international judges, with some giving 93. He was only about 2 or 3 marks away from the level needed to get into the last 12. He also had the opportunity to dance in an end of competition gala at The New York City Center which closed the competition and included some of the world's most famous professional ballet dancers. During his time in New York he was offered the opportunity to finish his studies at an American ballet school but, of course, he wants to complete the Bolshoi system of training.

Before leaving for America, The Bolshoi Academy had already given him a contract for the whole of the final phase of his training, without the need to see him pass future assessments. This is an indication of how well he is doing as they had previously only given one year at a time – the ballet students normally need to pass end of year assessments in order to move into the next year. It is only recently that I have learned that Henry is the first foreign student at The Bolshoi Academy to have been placed into a normal Russian ballet class. All other foreign students who are or have been at The Academy are placed into classes purely made up of foreign students. This is a real honour as they obviously feel that he has the same potential as the Russian boys. Indeed, his assessments this year put him in the top 50% of his class of boys and in the top 25% of all boys in that year, there being two classes.

In the end of year assessments, Henry scored four level 5's, one level 4 and one level 3. Level 5 is the highest grade awarded at The Bolshoi Academy. He was amongst the top 3 boys in his class for Pas de Deux work and the Russian girls are always very keen to partner him! He also scored one of the highest marks for acting, which is not surprising considering his success in the lead role of The London Children's ballet, the Scarlet Pimpernel, and the numerous medals he won as a younger dancer for character dance solos and duets.

Earlier this year, Henry was offered a scholarship to attend Boston Ballet School's five week summer program. He arrived back from Russia on 18th June and flew to Boston on 26th June. He has already enjoyed some success as, after the initial placement class, he was placed into the top group of boys. This is a wonderful opportunity for Henry to expand his knowledge of other ballet styles, including the Balanchine style. At the age of 17 he takes international travel completely in his stride and successfully coped with his budget flight route to Boston with Air Canada, involving a transfer in Montreal! In the last two years, besides being in Russia, he has also danced in Vienna, New York and now Boston. Most British 17 year old ballet students have not left the UK to dance by this age. He has so many visas and stamps in his passport that he might need a new one before it expires!

His command of the Russian language has increased rapidly over the last year and it looks like he will be fully fluent by the time he finishes his course at The Academy. He can now hold 'meaningful' conversations with people and this has helped him form closer friendships. A taxi driver recently thought he was Russian when Henry spoke to him! He returns to the UK from Boston on 2nd August and will enjoy just over three weeks at home before returning to Moscow on 28th August for the start of the new academic year at The Bolshoi Academy.