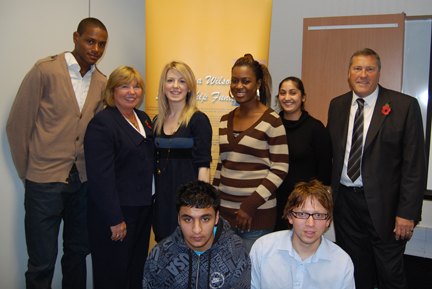 On October 27th at a ceremony at Southampton Solent University this year's intake of bursary recipients were presented with their cheques by Clive and Tricia Wilson.  This puts the number of students who have benefitted from the awards up to 35.  The ceremony was attended by 40 people including parents, tutors, staff, and many others. Widening Participation Officer Geeta Uppal welcomed everybody and Clive Wilson spoke about Lisa and the awards.  He then showed a pictorial DVD, put together by Lisa's brother Ross, called 'Lisa's Dream'.  This showed her journey around the world before she tragically died en route to Ayres rock.
Pro Vice Chancellor Academic Jane Longmore replied on behalf of the university stating that the 'Lisa Wilson Scholarship Fund' had now become an integral part of the university.
In addition to the 7 new students a further 11 will be entering their second and third years; this includes World Champion Boccha player Ali Lalani who had taken a year out because of the Olympic games.
The names of the new recipients for 2008 entry are as follows:
Nathan Campbell
Hollie Calton
Sabeen Ditta
Craig Dookie
Sharon Elegbede
Ajay Sharma
Tracy Phiri
The names of the continuing students are as follows:
Richard Dacombe
Michael J Green
Carly Hansford
Chloe Pickup
Sue Gatesman
Kirsty Anne Smithers
Denise Mutoni
Vanessa Langlais
Kayleigh Doughty
Tom Dowsett
Naomi Jane Linton
Ali Lalani