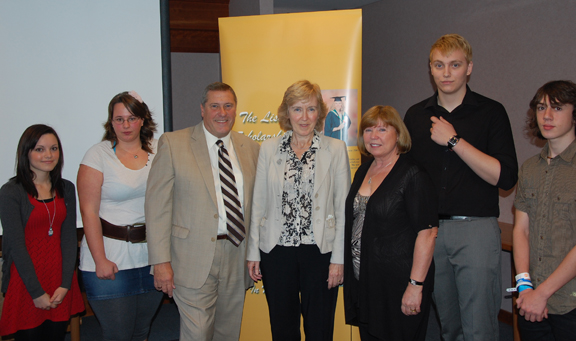 L-R: Kerry Ann Tosh, Bonita Lundqvist-Paddick, Clive Wilson, Professor
Jane Longmore, Patricia Wilson, Jake Dudas, James Whittingstall-Bean
Four new students were recently awarded with bursaries from the Lisa Wilson Scholarship Fund. The four new students, Jake Dudas, James Whittingstall-Bean, Kerry Ann Tosh, and Bonita Lundqvist-Paddick, were officially presented with their bursaries by Clive and Patricia Wilson after a video tribute to show the recipients of the fund what Lisa was like as a person and how the money is raised by Clive and Tricia, to help them to understand the importance of the scholarship.
The award takes the form a bursary of up to a maximum of £1,000 per year which is renewed annually. It is available to students who have overcome adversity or can demonstrate why they need extra financial help with their studies.
A previous recipient of the scholarship, Ali Lalani received the 'Lisa Wilson Prize' for outstanding academic achievement. Ali said: "It has been an enormous honour and privilege to be a Lisa Wilson Scholarship student over the last five years. I would like to thank Clive and Tricia for all their support, encouragement and generosity during my studies. To me, there are only two people in this room who truly define what it means to be outstanding, and they are Clive and Tricia. I would also like to thank my family for being here today to share this moment with me. Thank you for your unconditional love and support throughout my life, I'm everything I am today because of you. My success is your success."
Ali graduates this year with a 2:1 in Leisure Management.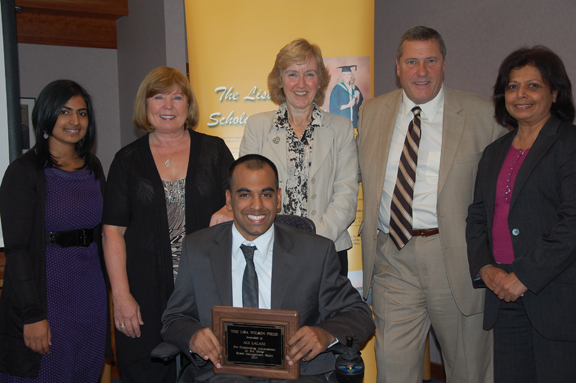 Ali Lalani (centre) with his mother and sister Abida, Professor Jane Longmore, Clive and Patricia Wilson
Geeta Uppal, Community and Adult Learning Co-ordinator praised each applicant's commitment and motivation to study at higher education despite the barriers they faced.
Pro-Vice Chancellor Professor Jane Longmore gave her heartfelt thanks to the Wilson family for their ever continuing support:
"I doubt that anyone here has not been thoroughly moved during the presentation. It is so apparent that there is so much love in the room and it is with truly heartfelt thanks that the University expresses enormous gratitude to Tricia and Clive Wilson. Their commitment to tribute Lisa with these scholarships is such an inspirational way of continuing Lisa's memory."
"Clive's and Trisha's fund-raising has provided support for 44 Solent students over the past eight years. No-one could have worked harder to honour Lisa's memory by supporting these students in facing their own personal challenges."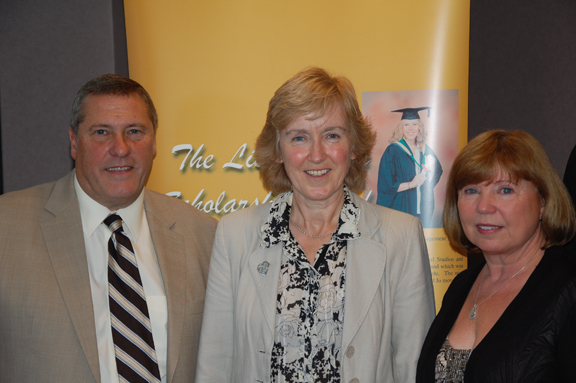 Clive and Trish Wilson with Pro-Vice Chancellor Professor Jane Longmore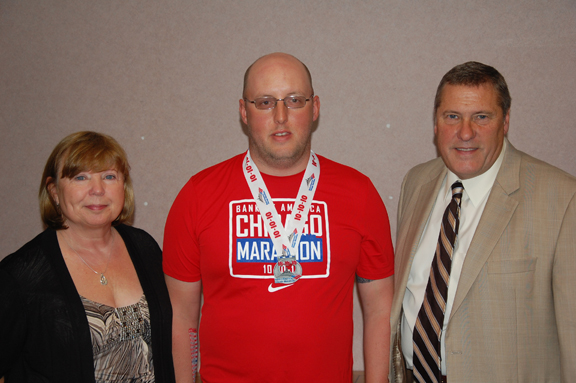 Clive and Trish Wilson with Gus McKechnie, a long-term supporter of the Lisa Wilson scholarship Fund